Marcius Extavour
Chief Scientist | EVP Climate & Energy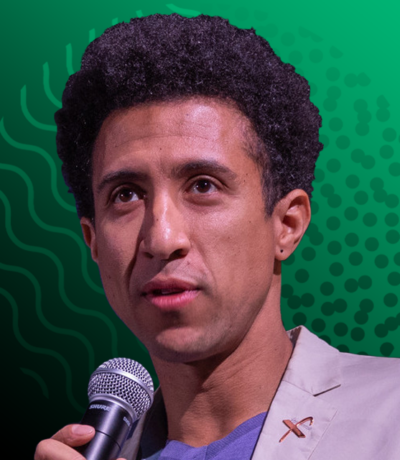 Marcius Extavour
XPRIZE
Chief Scientist | EVP Climate & Energy
Dr. Marcius Extavour combines his passion for communication and outreach with his background in engineering and physics to work on transformative innovation that can benefit humanity. A widely published innovation practitioner and speaker, he is an active member of the U.S. National Academies of Science Board on Energy & Environmental Systems, University of Michigan's Global CO2 Initiative, University of Ottawa's Institute on Governance, Carbontech Leadership Council of New York University's Carbon to Value Program, and Neste's Advisory Council.
Dr. Extavour's work has been featured in the New York Times, the Economist, Financial Times, Bloomberg, CNBC, Nature Physics, Physical Review Letters, Applied Physics Letters, and in video and television at PBS NOVA, BNN Bloomberg, Bloomberg Green, and TVO's The Agenda. He has also had the honor of speaking with audiences around the world, including at SXSW Eco, the Clean Energy Ministerial, Aspen-Columbia Energy Week, Climate Week, IHS CERAWeek, Sustainable Innovation Forum, and the Global Climate Action Summit, Climate COP, and more. He was named a 2019 VERGE Vanguard Fellow as one of 20 dreamers, pioneers, entrepreneurs and others leading the clean economy.
As Chief Scientist and Executive Vice President of Climate & Energy at XPRIZE Foundation he leads development and execution of the foundation's portfolio of energy and climate change innovation programs, including the $100M XPRIZE Carbon Removal funded by Elon Musk, and the NRG COSIA Carbon XPRIZE. His work in the private sector includes work in the electricity markets risk group at Ontario Power Generation, Nortel Networks, and the Council of Canadian Academies. Extavour has also shaped government policies and practices supportive of innovation in clean energy and critical materials as congressional AAAS Science & Technology Policy Fellow in the U.S. Senate Committee on Energy & Natural Resources. Dr. Extavour holds a Ph.D. and MSc. in quantum optics and atomic physics and an undergraduate degree in engineering science from the University of Toronto. He once built an award-winning pancake-making robot.